Podcast: Play in new window | Download
Subscribe: Apple Podcasts | Android | RSS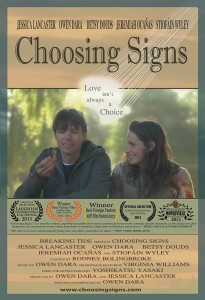 In the romantic comedy, Choosing Signs, by Irish filmmaker Owen Dara, Jennifer stops making decisions and allows simple games of chance to decide the fate of her life. If the coin lands on heads, she goes left. If it's tails, she marries the man of her dreams. But does the universe always know what's best? Today on the show, I'm speaking with the stars of the film, writer/director/composer Owen Dara and producer/actor Jessica Lancaster.

The Catalina Film Society presents a special screening of Choosing Signs on Wednesday, November 18th, at the historic Overlook Hall located at 209 E Whittley Avenue in the town of Avalon on Catalina Island. The screening is a community event and admission is free with a suggested $10 donation benefitting the Catalina Island Foundation. Snacks and beverages will be provided and the show starts at 7pm. For further questions about the screening, visit overlookhall.com.
Catalina Film Radio is provided by KISL 88.7FM Avalon and the Catalina Film Institute and supported by listeners like you. If you'd like to donate to help keep providing quality programming, please visit catalinafilm.org.